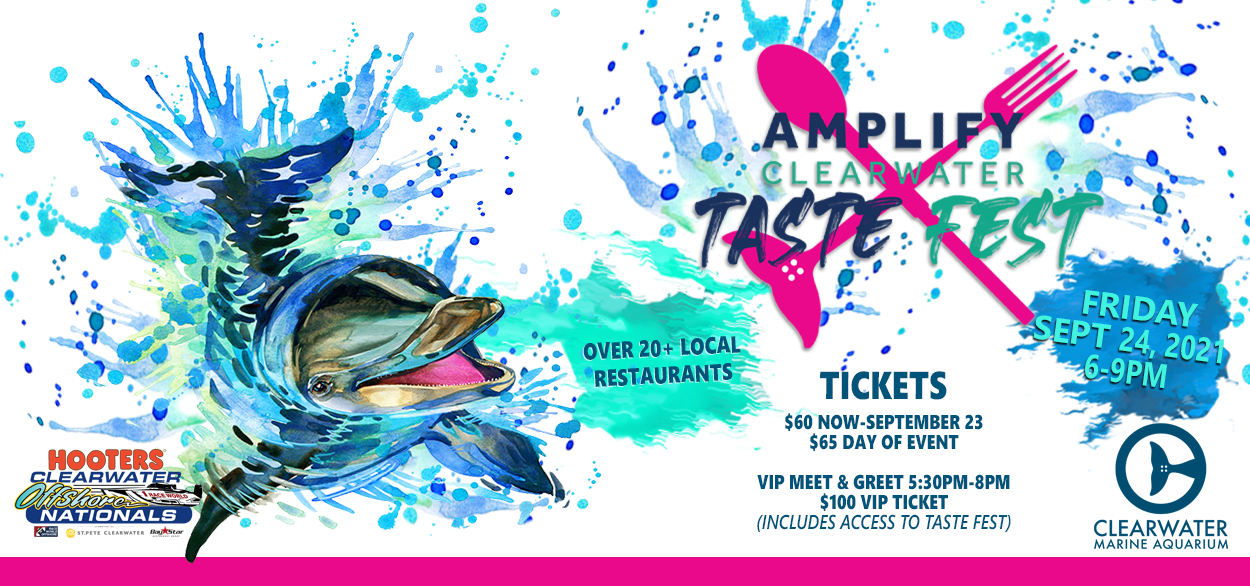 AMPLIFY Clearwater's Taste Fest 2021
AMPLIFY Clearwater cordially invites you to 2021's Taste Fest. We are pleased to announce that this year's event is planned in conjunction with the Clearwater Marine Aquarium.
This event will take place on Friday, September 24th from 6:00-9:00 p.m. We are very excited to host this event at the Clearwater Marine Aquarium, for the first time ever! We are also pleased to announce that this year's event will be in conjunction with Clearwater Offshore National's VIP Party and Meet & Greet from 5:30-8pm! (VIP tickets required)
The celebration will include fine food from 20+ restaurants, Wine & Craft Beer, and more! 

Taste Fest ticket includes:
Access to Clearwater Marine Aquarium's new facility
Sample food from over 20 local restaurants
Live entertainment
Beer and wine for purchase.
VIP ticket includes:
BAYSTAR RACE VIP PARTY
5:30pm to 8:00pm at Clearwater Marine Aquarium
Meet race teams and special guests for autographs and photos
Liquor & Beer included, Live Entertainment & Heavy Appetizers
FULL ACCESS to Amplify Clearwater's Taste Fest
Access to Clearwater Marine Aquarium's new facility
Sample food from over 20 local restaurants
Live entertainment (floors 1 & 4)
Beer and wine (for purchase)
Participating Restaurants
Ever since his first cooking job at the local small town Italian restaurant in Canandaigua, NY, Chef Mike has been creating traditional Italian dishes using only the best ingredients. His passion for cooking showed during his time at the Culinary Institute of America where he graduated among the top of his class in 2010. From there he has worked in some of the best ranked resorts across the country from New York to California alongside many award winning chefs. After joining the Ocean Properties team in 2013, Chef Mike has gone on to lead kitchens in several OPAL Collection properties including the Sagamore Resort, Longboat Key Club, and the Harborside Hotel, Spa and Marina. Now he brings his experience with Italian cuisine and passion for cooking with fresh local ingredients to Sea-guini here at OPAL SANDS Resort.
"As a youngster, I would accompany my grandmother to the open supermarket where I saw the abundance of fruits and vegetables and their vibrancy. I would then help her with cooking the evening's supper. Watching my grandmother create gourmet treats from scratch helped me to appreciate food, the ingredients and where they come from."
"Whatever you do in life, do it with a full heart. True greatness is not just about bettering yourself but about inspiring those around you. Motivate, encourage and evoke passion in your team members, and greatness is sure to follow."
We started our business in 2021 with one goal in mind: providing an enjoyable dining experience to the Clearwater Beach area. Thanks to our experience and dedication, we've managed to become masters of the craft. Providing dishes that are fresh, hearty and simply unforgettable and combined them with Art and illustrations about the basic concepts of the world of Crypto
Clearwater Beach's best-kept dining secret is SHOR American Seafood Grill. At the helm of this delightful culinary experience is Chef Giovanni Bridgeford. His love of food and flavors began in Brooklyn, New York where he grew up cooking with his uncle and his grandmother. He garnered a culinary education in Cork, Ireland, followed by 22 years in hospitality. His career has taken him from prep cook to Chef de Cuisine at SHOR American Seafood Grill.
Chef Andrew, a Clearwater native, has spent his entire life around food. With an Italian mother and a German father, Andrew grew up canning, farming, gardening, hunting, and doing everything related to food with his grandparents. With a vegetarian mother, if Andrew wanted to eat meat, he was going to have to learn to prepare it himself. Chef Andrew's most treasured family memories involve food, which led him to his first job in a kitchen. What started out as a job washing dishes grew into a culinary career built from a hands-on education that has spanned 19 years. Andrew has always sought to better his knowledge and experience by learning all areas of the food and beverage industry be it in the kitchen or front of the house operations, making him a well-rounded culinary professional that is very in tune with customer needs and expectations. Most recently, Chef Andrew has joined the team at the Sheraton Sand Key Resort as Executive Chef overseeing the resort's culinary operations. In his spare time, Andrew can be found out on the gulf waters. He continues his family memories as well as he lives in a home with four generations – all of whom love to cook. Andrew also finds time to give back to the community through his involvement with Hands on Education. Hands on Education is a non-profit organization that works with learning disabled students to train them in hotel services including the culinary arts. Andrew — who was himself a student there at one time — has trained legally blind students on knife skills and received an award for outstanding achievements.