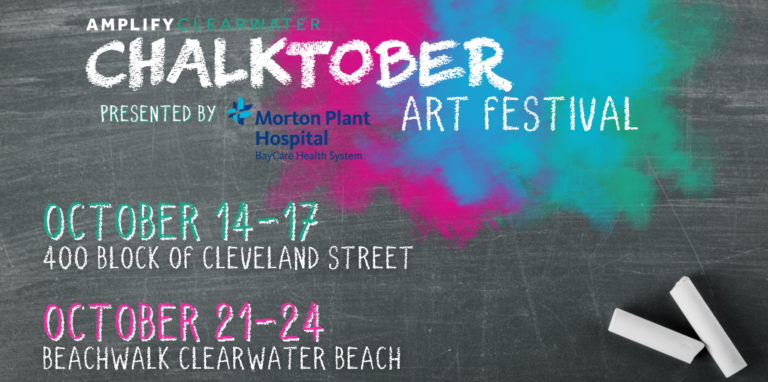 AMPLIFY Clearwater Chamber Announces 2021 Chalktober Art Festival
Clearwater, FL- AMPLIFY Clearwater is pleased to announce the Clearwater Chalktober Art Festival presented by Morton Plant Hospital/BayCare Health System! AMPLIFY Clearwater is working hard to showcase the great businesses and artists that make up our beautiful community.
This year's Chalktober Art Festival is being held twice in October. The dates are October 14th-17th and October 21st-24th. Participating businesses will enjoy exposure from a multi-level media campaign insured to draw attention to our community. The 2-weekend artistic celebration offers those of all ages an opportunity to experience top-notch chalk art, at your favorite hot spots on Clearwater Beach & Downtown Clearwater.
During the Clearwater Chalktober Art Festival, each participating business will be partnered with a local or visiting artist who will chalk a masterpiece. Artists will begin their work on Thursday with the goal of a Saturday completion for weekend enjoyment! October 14th– October 17th: Downtown Clearwater; October 21st – October 24th: Beachwalk Clearwater Beach. This is a leisurely event designed to attract customers to all participating and nearby businesses all weekend long. Chalktober Art Festival will kick-off with an Experience Chalktober event on October 14th from 5-7pm, downtown Clearwater along Cleveland Street.
We look forward to demonstrating that our community is the best in the market. This effort is designed to create exposure for businesses by bringing locals and tourists to our area during the month of October. Every business is an important part of our community.
Photos and video from previous Chalk events can be found at the following link: Chalk Photos
ARTISTS
Leigh Alfredson
Hilary Frambes
Erik Greenawalt
Naomi Haverland
Ron Hawkins
Lori Hughes
Terralynn Lake
Damon Meri
Lisa Milian
Kumpa Tawornprom
Laura Thomas
Janet Tombros
Rosa Villa
Ashley Whittaker